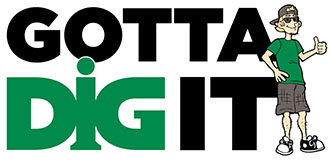 What is DIG and what is Gotta DIG It ?
"DIG," an acronym for Disability Inclusion Guild, is an organization created to break social barriers for people with disabilities.
"Gotta DIG It" is our motto. It is also a movement of social inclusion for people with disabilities, and the name of our signature program to promote this movement. The Gotta DIG It Program can be adapted to teach social inclusion to any group, school, or organization. This could mean a few people or a large corporation, institution, or whole campus.
Our impact is made through promoting authentic empathy within society. We've gone into schools, offices, libraries, homes, and events, promoting inclusion and opening minds. Our programs are based on research of what truly brings change to the human mind, and in turn to whole communities: Mindfulness, Experience, and Unity. This is what it takes to create the emotional impact needed to make change happen.
MINDFULNESS: The state of being fully present, aware, without judgement and with compassion. We incorporate mindfulness practices like meditation, mind and heart openers, and intention-focused strategies.
HANDS-ON EXPERIENCE: Participants get to use their hands, bodies, and senses to experience what it feels like to have certain limitations on our abilities. By using experiential learning stations to simulate various disabilities, we can expose people to the daily challenges facing people with disabilities as well as the common traits we all share. These learning stations are often lead by individuals with the specific limitations we are simulating. Although there is no way to truly live a day or even an hour in the life of someone with a disability, this gives us a taste of what it can feel like. When mindfully observing these limitations on abilities, we are able to create a sense of understanding.
UNITY: What unites us is much more important than what divides us. Our method of teaching inclusion to mainstream society always emphasizes the universal human traits we all share, regardless of differing abilities. Our programs require your involvement, and are lead by members of your own community including people with all different abilities, uniting to understand each other.
We have existing school program models which can be done in an assembly format for an hour or so, or a classroom format in which GOTTA DIG IT is worked into school curriculum over the course of a day up to a week.
Gotta DIG IT programs can stand alone or be adapted to merge with existing programs already in place. We'd love to bring our Gotta DIG It program to you. We support organizations who share a common cause. Check out our Resource Network for more info.
Take a look at our sample program model.